There are four things to keep in mind when using cell factories to grow Vero cells:
(1) Ensure that the source of cells is reliable, and detect the presence or absence of mycoplasma and foreign virus contamination.
(2) The number of consecutive cell passages is limited, and low-passage cells should be used for experiments.
FuDau 5 Layers Cell Factory
(3) Use a new cell factory for each passage.
And in the cell factory culture process abnormal handling
(1) The seed cells should be passaged as separately as possible during the culture process.
(2) In case of turbidity of the culture medium during cell culture, please select a room where cell experiments will not be performed on that day for sampling and microscopic examination. Microorganisms with obvious swimming under the microscope are likely to be bacterial contamination. If it is not particularly obvious, some culture fluids can be taken Incubate in TSA plate for 24-72h and observe.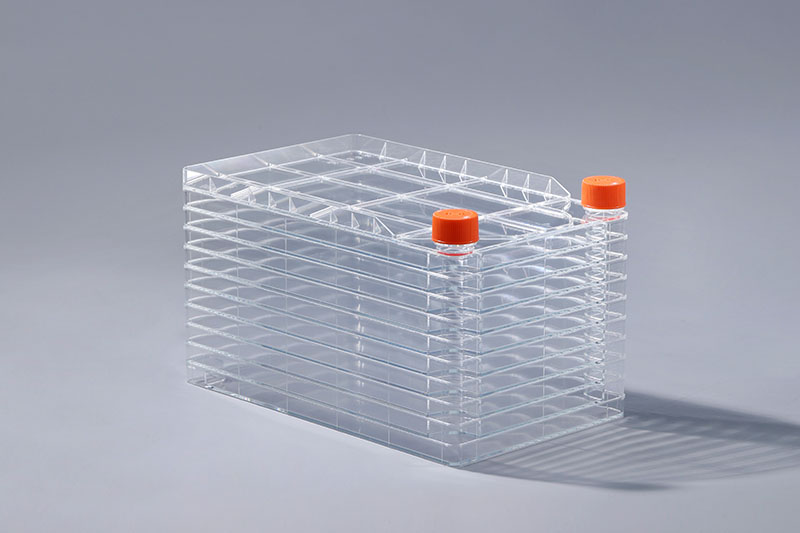 FuDau 10 Layers Cell Factory
(3) If the culture medium is clear, but the growth of cells is obviously restricted or dead, please select a room where cell experiments are not performed on the day for sampling and test for mycoplasma or foreign viruses.
(4) After confirming the contamination, all contaminated cells must be discarded, the medium in use should be stopped, and the experimental environment should be thoroughly disinfected and sterilized before the next batch of experiments.
The FAI climbed 5.9 percent year-on-year in the first 11 months of 2018, quickening from the 5.7-percent growth in Jan-Oct, the National Bureau of Statistics (NBS) said Friday in an online statement.
The key indicator of investment, dubbed a major growth driver, hit the bottom in August and has since started to rebound steadily.
In the face of emerging economic challenges home and abroad, China has stepped up efforts to stabilize investment, in particular rolling out measures to motivate private investors and channel funds into infrastructure.
Friday's data showed private investment, accounting for more than 60 percent of the total FAI, expanded by a brisk 8.7 percent.
NBS spokesperson Mao Shengyong said funds into weak economic links registered rapid increases as investment in environmental protection and agriculture jumped 42 percent and 12.5 percent respectively, much faster than the average.
In breakdown, investment in high-tech and equipment manufacturing remained vigorous with 16.1-percent and 11.6-percent increases respectively in the first 11 months. Infrastructure investment gained 3.7 percent, staying flat. Investment in property development rose 9.7 percent, also unchanged.