July 20, 2023 --(BUSINESS WIRE)--Daiichi Sankyo (TSE: 4568) today announced that Vanflyta (quizartinib) has been approved by the U.S. Food and Drug Administration (FDA) in combination with standard cytarabine and anthracycline induction and cytarabine consolidation, and as maintenance monotherapy following consolidation chemotherapy, for the treatment of adult patients with newly diagnosed acute myeloid leukemia (AML) that is FLT3-ITD positive as detected by an FDA-approved test. Vanflyta is not indicated as maintenance monotherapy following allogeneic hematopoietic stem cell transplantation (HSCT); improvement in overall survival with Vanflyta in this setting has not been demonstrated.
AML is one of the most common forms of leukemia in adults and an estimated 20,380 new cases will be diagnosed in the U.S. in 2023.1 Up to 37% of newly diagnosed patients with AML have a FLT3 gene mutation and approximately 80% of these are FLT3-ITD mutations, which drive cancer growth and contribute to increased risk of relapse and shorter overall survival.2,3 The five-year survival rate for patients with FLT3-ITD AML has been reported at approximately 20%.
Cell Factory Systems
Vanflyta is the first and only FLT3 inhibitor to be approved by the FDA specifically for FLT3-ITD positive AML and across the three phases of treatment – induction, consolidation and maintenance in patients without transplant – for newly diagnosed AML. Vanflyta will be available by prescription in the U.S. in the coming weeks.
The approval by the FDA was based on results of the QuANTUM-First trial published in The Lancet.5 In QuANTUM-First, Vanflyta combined with standard cytarabine and anthracycline induction and standard cytarabine consolidation, and continued as maintenance monotherapy following consolidation, resulted in a 22% reduction in the risk of death compared to standard chemotherapy alone (HR = 0.78 [95% CI: 0.62-0.98; 2-sided p=.0324]) in patients with newly diagnosed FLT3-ITD positive AML. While complete remission (CR) rates were similar between both arms of the trial, the median duration of CR was more than three times longer at 38.6 months (95% CI: 21.9, NE) for patients receiving Vanflyta compared to 12.4 months for those receiving placebo plus standard chemotherapy alone (95% CI: 8.8-22.7).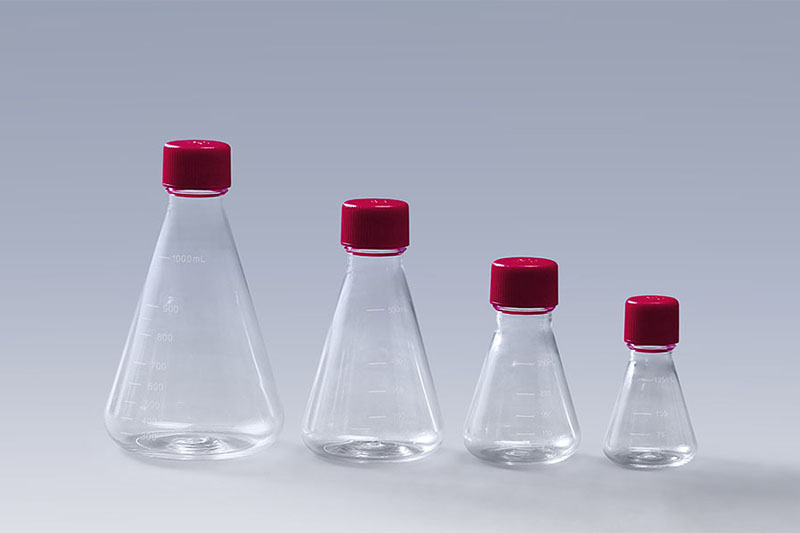 Cell Culture Erlenmeyer Flasks
"The approval of Vanflyta represents a significant advancement for the treatment of patients with newly diagnosed FLT3-ITD positive AML, which is one of the most aggressive and difficult-to-treat subtypes," said Harry P. Erba, MD, PhD, Professor of Medicine, Department of Medicine, Division of Hematologic Malignancies and Cellular Therapy, Duke Cancer Institute. "In the QuANTUM-First trial, Vanflyta added to standard chemotherapy and continued as maintenance resulted in longer remission and prolonged overall survival and it will be a much-needed new treatment option that has potential to change the way FLT3-ITD positive AML is treated."
The safety of Vanflyta was evaluated in 265 patients with newly diagnosed FLT3-ITD positive AML who received Vanflyta once daily (35.4 mg with chemotherapy, 26.5 to 53 mg as maintenance) in the QuANTUM-First trial. Vanflyta is approved with a Boxed WARNING for QT prolongation, torsades de pointes and cardiac arrest. Treatment emergent QT interval prolongation events of any grade were reported in 14% of patients who received Vanflyta , including 3.0% who experienced a grade 3 or 4 event. Of the 265 patients treated with Vanflyta and standard chemotherapy, QTcF >500 ms occurred in 2.3% of patients based on central ECG review and 10% of patients had an increase from baseline QTcF greater than 60 ms.
PETG Media Bottles
The most common adverse reactions (frequency ≥10% all grades with a difference between arms of ≥2%), including laboratory abnormalities, in patients receiving Vanflyta included lymphopenia (60%), hypokalemia (59%), hypoalbuminemia (53%), hypophosphatemia (52%), alkaline phosphatase increased (51%), hypomagnesemia (44%), febrile neutropenia (44%), diarrhea (42%), mucositis (38%), nausea (34%), hypocalcemia (33%), abdominal pain (30%), sepsis (30%), neutropenia (29%), headache (28%), creatine phosphokinase increased (26%), vomiting (25%), upper respiratory tract infection (21%), hypertransaminasemia (19%), thrombocytopenia (18%), decreased appetite (17%), fungal infections (16%), epistaxis (15%), hyperkalemia (15%), herpes virus infection (14%), insomnia (14%), electrocardiogram QT prolonged (14%), hypermagnesemia (14%), hypernatremia (13%), dyspepsia (11%), anemia (11%) and eye irritation (11%).
Because of the serious risk of QT prolongation, torsades de pointes, and cardiac arrest, Vanflyta will be available only through a restricted program called the Vanflyta Risk Evaluation and Mitigation Strategy (REMS). Vanflyta may only be prescribed and dispensed by certified healthcare providers and pharmacies.
Source: https://www.drugs.com/newdrugs/fda-approves-vanflyta-quizartinib-patients-newly-diagnosed-flt3-itd-positive-acute-myeloid-leukemia-6062.html
The FAI climbed 5.9 percent year-on-year in the first 11 months of 2018, quickening from the 5.7-percent growth in Jan-Oct, the National Bureau of Statistics (NBS) said Friday in an online statement.
The key indicator of investment, dubbed a major growth driver, hit the bottom in August and has since started to rebound steadily.
In the face of emerging economic challenges home and abroad, China has stepped up efforts to stabilize investment, in particular rolling out measures to motivate private investors and channel funds into infrastructure.
Friday's data showed private investment, accounting for more than 60 percent of the total FAI, expanded by a brisk 8.7 percent.
NBS spokesperson Mao Shengyong said funds into weak economic links registered rapid increases as investment in environmental protection and agriculture jumped 42 percent and 12.5 percent respectively, much faster than the average.
In breakdown, investment in high-tech and equipment manufacturing remained vigorous with 16.1-percent and 11.6-percent increases respectively in the first 11 months. Infrastructure investment gained 3.7 percent, staying flat. Investment in property development rose 9.7 percent, also unchanged.